For a more tutorialized explanation of the content described in this article, see Scarak on the Hytale Community Wiki.
Scaraks are enemy creatures that inhabit the Howling Sands.
Types
[
]
Scaraks have different roles within their faction:
Broodmother

The "Queen" of the group. Lays eggs to hatch into new Scaraks. Eggs will hatch into Larvae which will then grow into one of the 4 different Scarak types seemingly at random.

Warrior

The "Soldiers" of the group. These patrol the area on the ground and in the nest.

Tank

Tanks are used to build walls within the habitat.

Locust

Flying version of a Scarak. These patrol the skies and have a stinger.

Worker

Will presumably work for the colony getting food and resources.

Larva

Scarak larvae hatch from Scarak eggs (produced by the Broodmother). They can be found wandering around Scarak structures, until they metamorphosize into either a warrior, locust, worker or tank. Scarak larvae act as sentinels, warning stronger Scarak archetypes about any incoming threats.
Habitat
[
]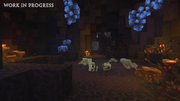 Scaraks inhabit the Howling Sands on Orbis, found surrounding and inside large structures, called the Scarak nest, with many caverns where piles of bones and Scarak eggs can be found. They also inhabit the Ziggurats, which contain a prison cave with a crystal underneath. Four heavily armoured watchtowers are placed around the main building to protect the Ziggurat.
Backstory
[
]
Scaraks previously enslaved the peaceful Feran faction, causing them to go into hiding. Ferans have since gained freedom.
Tank/Shield Scaraks were used by the Sand Empress to fight enemies and move heavy walls for construction. The Sand Empress is now imprisoned in the Sand Palace.
History
[
]
Gallery
[
]
Trivia
[
]
Although all Scaraks have wings, only Locusts appear to be able to use them.