For a more tutorialized explanation of the content described in this article, see Liquids on the Hytale Community Wiki.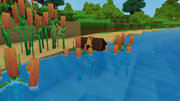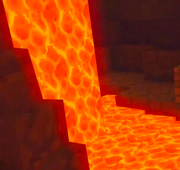 Fluids are special blocks[1] that can flow over other blocks. Fluids in Hytale include water and lava.
Mechanics
[
]
Certain blocks can be placed in fluids and will be submerged inside the fluid. Some blocks such as coral and reeds can generate naturally submerged in water.
Customization
[
]
The option that declares whether a certain block is submersible or not is found inside the configuration file for that block. Any block can be configured to submerge in any fluid.[1]
History
[
]
References
[
]
Fluids
Full blocks
Hybrid
Slabs

Quartzite slab
Stone slab

Stairs

Quartzite stairs
Stone stairs

Storage
Plants
Utility
Other
Gameplay
Entities
World generation
Ambient events
Game customization
Multiplayer