Farming
This article is a
stub
, meaning that it lacks some important content.
You can help the Hytale Wiki by expanding it with further relevant information.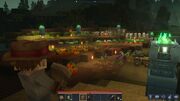 Farming refers to the production of renewable resources, typically of livestock or food.
Farming food requires a hoe to till the dirt into farmland. Seeds may then be planted on this farmland and grown into crops. Crops will then grow in real-time over several in-game days.[1]
Farming livestock involves domesticating animals involving an animal happiness system that reacts to a variety of factors, including hunger level, available bedding, and having similar creatures nearby.[1]
Gameplay
Entities
World generation
Ambient events
Game customization
Multiplayer